How to make a payment?
We've made it easy and flexible for you to make your payment.
You can pay by direct debit, standing order, debit card, or bank transfer.


Overpayments - BTL
When you're a mortgage customer with us you have the option of overpaying on top of your usual monthly payments. By making use of this you could save a considerable amount of interest which may also help you to repay your mortgage earlier.
You can make overpayments of up to 10% of the outstanding loan balance in each 12-month period with no early repayment charge. Overpayments that exceed this limit will incur an early repayment charge of the percentage


Overpayments - Residential
Capital repayments of up to 10% of the mortgage balance outstanding can be made each year without
incurring any early repayment charges. An early repayment charge may apply if you repay more than 10% in any one year or if you repay your fixed-rate mortgage early in full.
For our long-term fixed-rate products, you will have to pay an Early Repayment Charge when, in any year, the amount, or
amounts, you repay early is, or are in total, more than 10% of the original Loan.
You will not have to pay an Early Repayment Charge when:
- You repay the loan in full using your own resources without borrowing from another lender,
- The loan is repaid in full after your death or critical illness,
- The property is sold, and the net proceeds of that sale are applied in or towards payment of the total sum outstanding,
- The proceeds of a claim under the insurance of the property are applied in or towards payment of the total sum outstanding.
How much is the charge?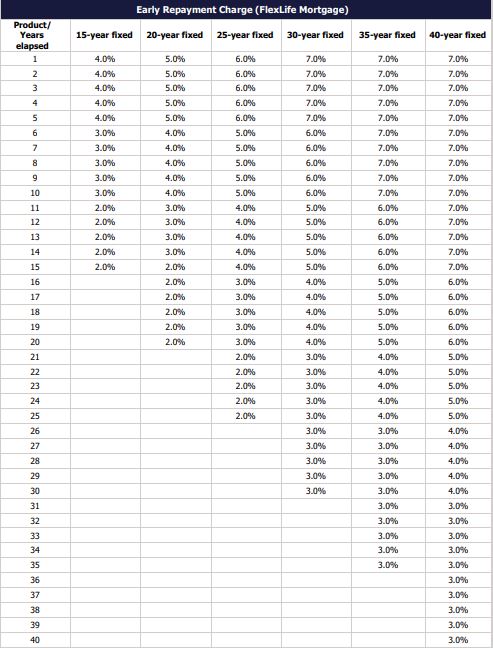 How do I make an overpayment?
You can pay directly into your mortgage account, using the following details.


Bank Name: Barclays
Account Name: Molo Holdings No. 1 Limited
Account Number: 40060038
Sort Code: 20-44-22

Please quote your mortgage account number as the reference.

Or you can contact us on 0330 058 3322. Our Customer Service team is available to speak with you from 9 am to 5.30 pm, Monday to Friday.